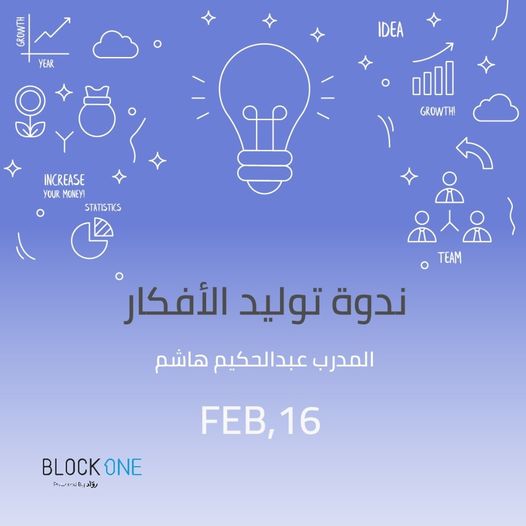 Do you want to enter the world of entrepreneurship and confused with what idea to start?
This week's seminar is the answer!
In the (Idea Generation) symposium, you will learn about tools that help you in generating new and good ideas for distinctive entrepreneurial projects.
Seminar topics:
1. Definition of some concepts related to entrepreneurship.
2. The concept of idea generation.
3. Why do we need to generate ideas?
4. What are the sources of project ideas?
5. The most important techniques for generating creative ideas and creating effective solutions:
6. Brainstorming: what is it and what are its rules?
7. SCAMPER Tool for Creative Thinking: What is management and what are the ways to use it in generating and developing ideas.
8. Quick tips for project ideas.
9. Some illustrative examples and case studies.
10. What comes after idea generation?
The seminar will be presented by Abdul Hakim Hashem Othman
Consultant and trainer in several fields
Coordinator and Supervisor of the Leadership and Innovation Award and Competition at the British Council until 2014
A certified institutional development consultant from the International Labor Organization (ILO) - Regional Office Beirut, United Nations in entrepreneurship and skills training.
Seminar date: Wednesday, February 16 from 3 pm to 7 pm
Location: Business Incubator #Block_One, Haddah Street, Al-Misbahi Roundabout, Al-Nazili Building, Sixth Floor, Office 36
Seminar duration: 4 hours
Fee: 3000 YR
To register, send your name and seminar name by SMS or WhatsApp to http://wa.me/967777833433
#entrepreneurship #entrepreneurship #entrepreneurship.
Date

Wednesday , 16th February , 2022

To

Wednesday , 16th February , 2022

Time

From 03:00pm To 07:00pm