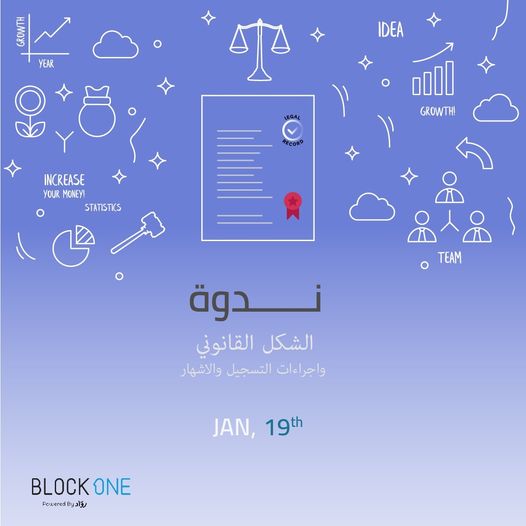 With the first #Block_One seminars for the year 2022
Before you start your project, have you seen the important legal aspects in this aspect?
Seminar (legal record) specially designed for entrepreneurs to cover their knowledge in aspects related to their projects by knowing:
Determining the importance of the legal form of the project and the necessary factors when determining this form.
Defining the individual form of facilities and the advantages and disadvantages of this form.
- Identify the types of companies and the difference between them.
Determining the advantages and disadvantages of the joint liability company.
Determining the advantages and disadvantages of a limited liability company.
Defining the main procedures for publicity and incorporation and specifying some of the necessary requirements for them.
Seminar date: 1/19/2022
Seminar duration: four hours
Seminar time: 3:00 p.m. to 7:00 p.m
Address: Business Incubator #Block_One, Haddah Street, Al-Misbahi Tour, Al-Nazili Building, Sixth Floor, Office 36 (Rowad Institution)
Fees: 3000 riyals
To register, send an SMS or WhatsApp message with your name and the name of the seminar to http://wa.me/967777833433
We are waiting for you!
Date

Wednesday , 19th January , 2022

To

Wednesday , 19th January , 2022

Time

From 03:00pm To 07:00pm